1st Generation

2nd Generation

3rd Generation

Classic Kennels was founded in May 1977 by Roy and Joni Ramsey and is now a 3-generational Hobby/Show Kennel working together for the better of the breeds each one loves and cherishes...
Collies
Boys | Girls | Collie Nursery | Available | Puppy Supplies

Friends | Memorial | History |Collie Home | Show Brags
The "old type" collie is what you can expect whenever you purchase or adopt one of our collies. They are the big, full-sized collies who are intelligent and easy to train. Our boys range from 65 - 85 pounds and our girls range from 55 - 70 pounds. We adhere as closely to the collie standard as possible regarding conformation.
We have devoted 30+ years to eradicating Collie Eye Anomaly in our lines. Collie Eye Anomaly affects about 85% of all collies and therefore all collie puppies must be tested before being kept for breeding and showing purposes. Our sires and dams are genetically clear of CEA, PRA, DM, and MDR1.
We highly recommend the NuVet Plus Vitamins and encourage our clients to consider them for their new family member!
All text and photos contained within this website are copyrighted by Classic Kennels. NO text or photos may be reproduced or used for any reason including but not limited to promoting a puppy or adult purchased from Classic Kennels. Legal action will be taken against anyone violating these copyrights.
Our Rough Collies are genetically tested for Collie Eye Anomaly (CEA), Progressive Retinal Atrophy (PRA-RCD2), Degenerative Myelopathy (DM), and Multidrug Resistance 1 gene (MDR1). We also have tested for Dermatomyositis (DMS).
Collie Eye Anomaly (CEA): a congenital, inherited, bilateral eye disease of dogs, which affects the retina, choroid, and sclera. It can be a mild disease or cause blindness. CEA is caused by a simple autosomal recessive gene defect.
Progressive Retinal Atrophy (PRA-RCD2): Collies (rough and smooth) have a unique type of PRA not found in other breeds, called rod-cone dysplasia 2 or rcd2. PRA-rcd2 is a very early onset retinal atrophy, as by 6 weeks of age affected puppies can already present with night-blindness. By 6-8 months, most affected puppies are completely blind.
Degenerative Myelopathy (DM): is a relentlessly progressive disease of the spinal cord. The first signs are loss of coordination (ataxia) and weakness in the hind legs. One rear leg is often worse then the other. Degenerative myelopathy typically occurs in older dogs, 7 to 14 years of age.
Multidrug Resistance 1 (MDR1): is a gene that is meant for helping to protect the brain. This gene specifically codes for P-glycoprotein, which is responsible for transporting certain drugs out of the brain. If this gene is mutated, it will create a defective protein, and consequently, drugs will remain and build up in the brain to toxic levels.
Dermatomyositis (DMS): is an autoimmune disease affecting the skin and muscle that is often diagnosed in different degrees in Shetland Sheepdogs and Collies. In most case skin lesions involving hair loss and crusty scabs in areas such as the face, ear tips, legs and feet, and the tip of the tail.

Best in Show - Breeder Group
1999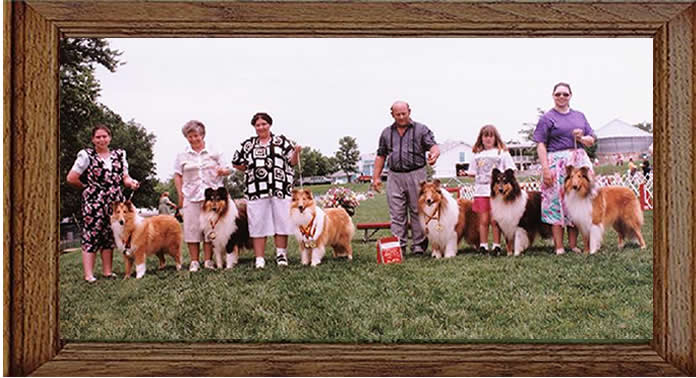 From left to right.
CAC/CACIB/CACH-B/CACH-S CH Classic's Let the Rumors Fly, CACIB CH Classic's Dreams Die Hard (Owned by Connie Harrison), CAC/CACIB/CACH-B CH Classic's Encore Performance CGC, CAC/CACIB/CACH-B/CACH-S Heirlair Bugsy Malone CGC, CAC/CACIB/CACH Classic's Above the Law CGC(Owned by Jan Courtney), and CAC/CACIB/CACH-B CH Classic's Casta Giant Shadow CD CGC (Owned by Cathy Olish)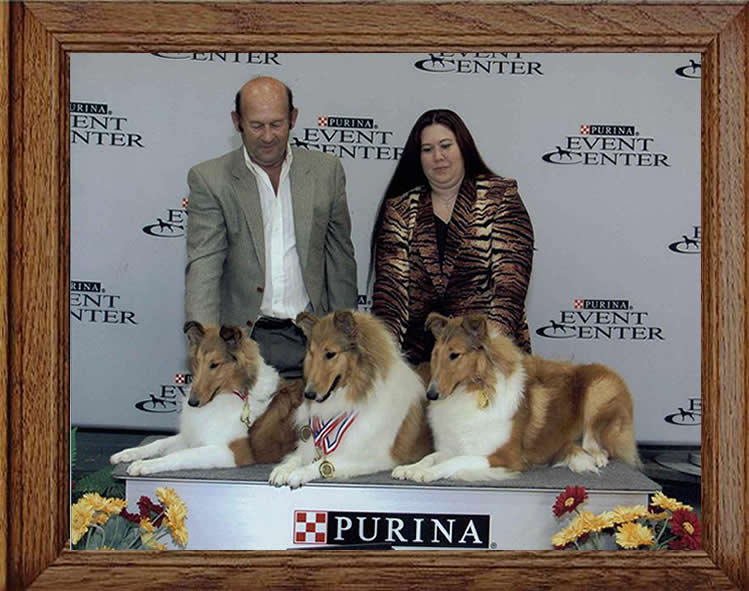 From left to right.
National/International CH Classic's Trust In The Promise (Angelina)
International CH Classic's His Hand Is Upon Me (Sasha)
National CH Classic's Closer To The Dream (Arianna)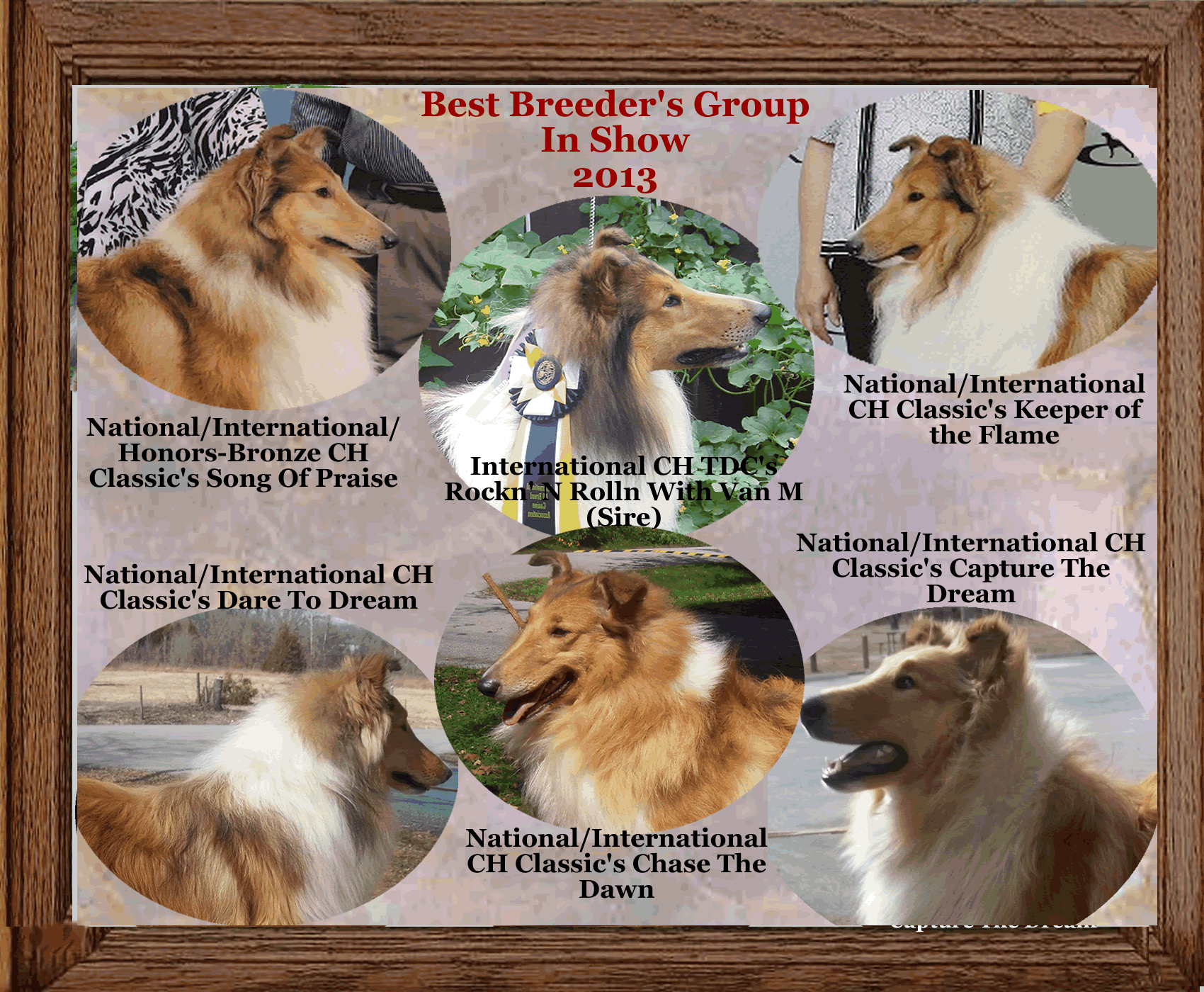 Top Row from left to right: National JRCH, International JRCH, National CH, International CH, Honors CH, Honors-Bronze CH Classic's Song Of Praise; International CH TDC's Rockn & Rolln With Van M; Nationa/International CH Classic's Keeper Of The Flame (owned by Cathy Olish)
Bottom Row from left to right: National/International CH Classic's Dare To Dream; National JRCH, International JRCH, International CH Classic's Chase the Dawn; National/International CH Classic's Capture The Dream

Boys | Girls | Collie Nursery | Available | Puppy Supplies

Friends | Memorial | History | Show Brags | Collie Home