Shih Tzu Available for Sale or Adoption
Laci is being held for Mollie in Maine...
Lovely Laci is a National/International Champion and a Reserve Best In Show winner (Plus has multiple Toy Group 1 wins). She was born 07/2014. She is dark gold and white girl, with a lovable personality. She is small in size, AKC and IABCA registered with full privileges, crate trained and leash trained. She is intact but we have never bred her. She has been exposed to calm, adolescent girls and other small dogs. A fenced area to toilet and exercise in is a must! $900 (plus MO sales tax at 6.35% rate) total. New owner must come in to pick up or must use an experienced pet nanny. Flat-faced breeds are not allowed to fly in cargo--this is too dangerous for them! LOOKING FOR A NEW OWNER WHO WILL COMMIT TO FOREVER WITH LACI!New owner must come in to pick up or must use an experienced pet nanny. Call 636-797-3206 or email.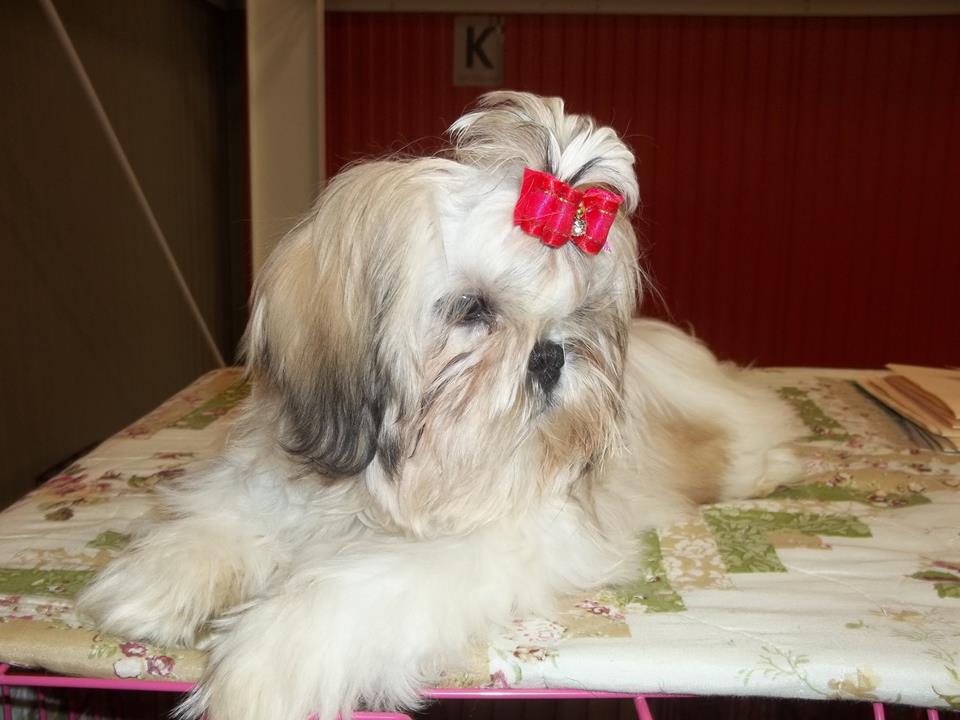 Leah is a darling gold and white AKC and IABCA registered Shih Tzu. She is a National and International champion and multiple group winner. Leah is crate trained, leash trained and loves to go to the shows. She also loves lounging around the house and enjoying her toys and cuddle bed. Leah is house-trained, but when she moves homes could have a few accidents until she learns her new toilet area. She is trained to a doggy door. Born July 20, 2017. Shipping available, however she must fly in cabin with a nanny or her new owners must come in to pick her up. Purchase price with AKC registration is $1600. MO sales tax does apply at 6.35%. Call 636-797-3206 or email.
If you are looking for a younger puppy, check out our Shih Tzu Nursery page.
**Due to changes in Missouri law, all sales are subject to MO State Sales Tax (6.35%).
Even though we are a hobby kennel, we are still required to collect sales tax.
---