1st Generation

2nd Generation

3rd Generation

Classic Kennels was founded in May 1977 by Roy and Joni Ramsey and is now a 3-generational Hobby/Show Kennel working together for the better of the breeds each one loves and cherishes...
Dachshunds
Reserve Best In Show Breeder's Group
Judges Juliann Bitter & Judith Taylor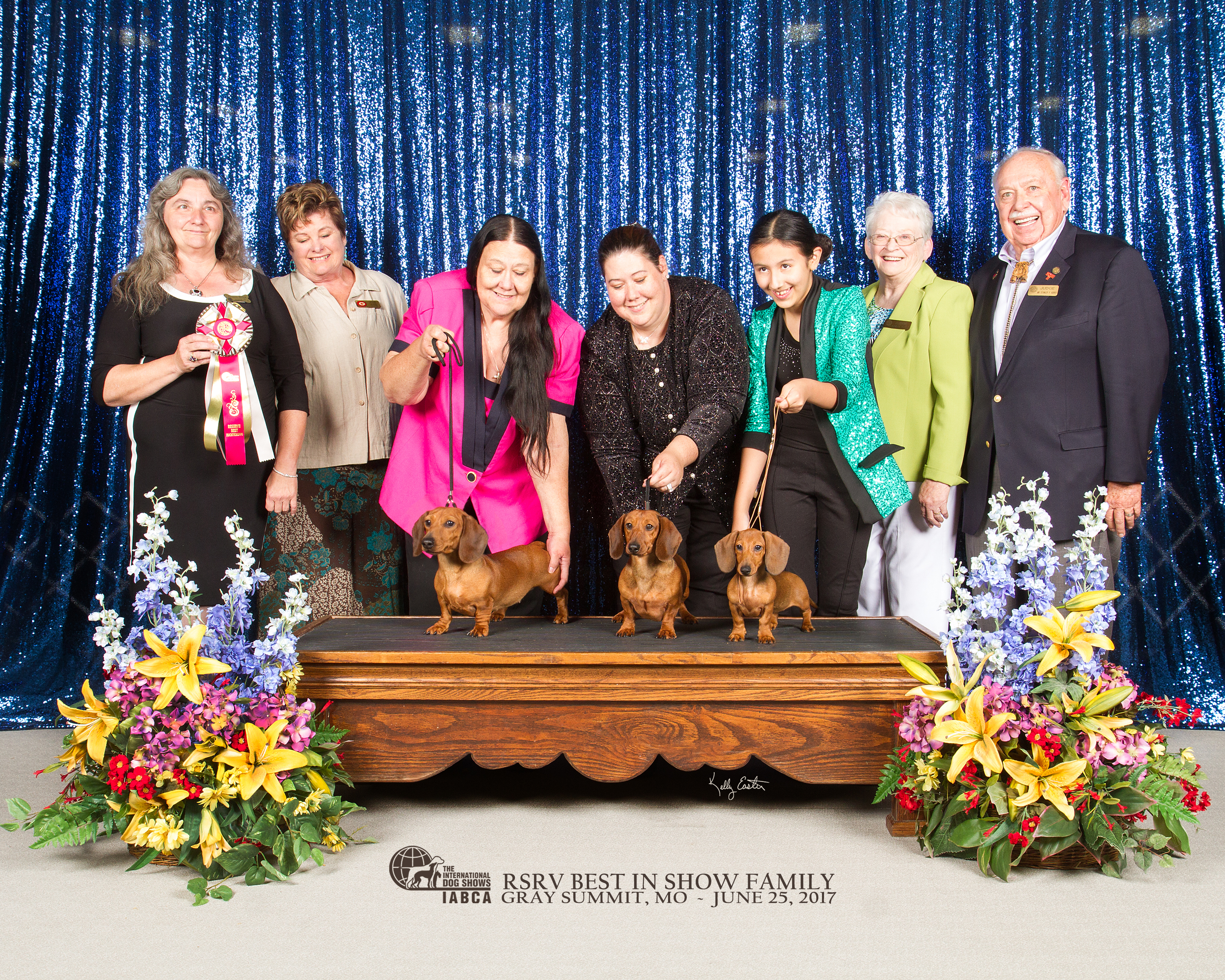 Left to Right:
BIS Multi-CH Classic's Only By His Grace
BIS Muti-CH Parracino's Classic Calibre
BIS Nat/Int CH Classic's Holdin' Onto His Promises
The Dachshund, originally bred in Germany over 300 years ago as a hunter, has quickly become an American favorite as a family companion. His loyalty and his unwavering bond to his family have captured the hearts of everyone who has ever owned a Dachshund.

This is a low maintenance little dog that is basically odorless. Shedding is not a major problem either as most shed very little or not at all, unless there is an underlying health issue that needs to be taken into consideration.

The Dachshund is quite versatile in environmental needs. He lends himself quite nicely to apartment living with senior citizens but is just as willing to make himself at home down on the farm (or in the suburbs) with a boisterous, active family. The Dachshund is relatively easy to train and is an enjoyable companion that longs to be loved by his family members.

We highly recommend the NuVet Plus Vitamins and encourage our clients to consider them for their new family member!
All text and photos contained within this website are copyrighted by Classic Kennels. NO text or photos may be reproduced or used for any reason including but not limited to promoting a puppy or adult purchased from Classic Kennels. Legal action will be taken against anyone violating these copyrights.
Quality

Endures


Int/Nat CH Classic's Prayers & Promises - "Dylan"

Int/Nat CH Classic's An Eagle Soars Alone - "Dante"

Int/Nat CH Classic's The Spirit Within - "Dustin"
Int CH Classic's Where Eagles Dare - "Dmitri"